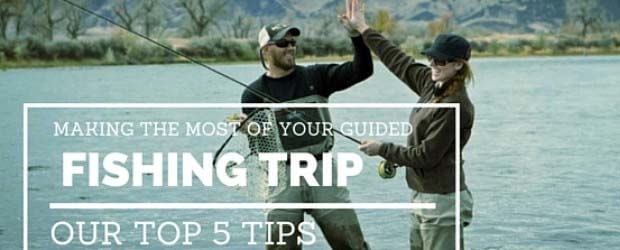 Whether you want to hone your skills on a particular angling technique, increase your knowledge of a specific body of water, or, you're a newbie looking to expedite the learning curve, enlisting the services of a professional guide can greatly enhance your fishing experience. Sometimes clients shortchange themselves by focusing on things like getting a certain number of hero shots for their Facebook page or having a "trophy fish or bust" mentality. Don't get me wrong, it's your money and your time we're talking about so if all you care about is landing a trophy fish to hang on the wall in your office, so be it. For everyone else, here are a few tips to make the most of your time with a guide.
1. Follow the Boy Scout Motto.
One of the more common causes of having a less than stellar day on the water is clients showing up uninformed and unprepared to fish for the day. If you show up hungover wearing a tank top when there's rain in the forecast, there's a pretty good chance you're in for a rough day no matter how good your guide is.
One of the best things you can do to prepare is to do a bit of research on the lake or river you'll be fishing. Your Crystal Ranch Guide will contact you before your trip to answer any questions and get familiarized with you and your expectations. Use this opportunity to get familiar with your guide and the water you plan to fish. If your destination requires 25-foot casts and you've done nothing but high-stick nymphing for the past two years, brush up on your casting. Some basic preparation can make the difference between a good day and an epic day.
2. Keep Your Attitude and Expectations in Check.
My Grandpa used to say the secret to a happy marriage is low expectations. I have to say, after six years of marriage, there is some truth to Grandpa's  counsel. Fishing with a guide does not guarantee you're going to catch the biggest fish of your life or even lots of fish. Hiring a guide certainly improves your odds, but much of that depends on your skill and ability– casting, mending, whether or not you did your homework to start with– along with a slew of other factors that your guide has next to no control over, such as weather, hatch activity, or simply the time frame or season you're scheduled to be on the water. If conditions are poor the day of your trip don't turn into Eeyore (remember the melancholy jackass from Winnie the Pooh?) Chances are your guide will have a contingency plan to counteract unfavorable conditions.
3. Communicate.
Don't be afraid to tell your guide or outfitter what you want out of your trip when you book. They will need to formulate a strategy using the right flies, covering the right type of water, and sometimes even scheduling your trip during the right time of year to maximize the chances of meeting your goals. Would you rather fish dry flies on top than nymph, even if it means you may catch less fish?  Tell your guide.  Are you hiring a guide so you can learn how to fish streamers? Tell your guide. If you don't have specific expectations, rest assured, a decent guide will make the best call possible to ensure you end the day without regret.
4. Learn.
As mentioned, many things are out of the guide's control and sometimes the fish gods are simply unwilling to smile down upon us. One outcome you should always expect from a guided trip regardless of fishing conditions is to leave enlightened. Take advantage of the time to learn from someone who has dedicated a significant portion of their life to mastering the sport.
One of my most memorable experiences with a guide was fishing Utah's remote Boulder Mountains. The fishing did not come close to the expectations set by this particular outfitter, and I hooked more branches than brookies. The torrential downpour that lasted through the second half of the day didn't help. However, I learned things that day that I hadn't discovered in my previous eight years fishing. That guide made me a much better angler, and I still use the tricks he shared with me.
5. Tip.
Alright, you got me. This item is more about how a guide can get the most of a day with a client, but I'm ok including a shameless plug because I believe it is important.
Many people don't know what is customary and seem to think the tip should correlate directly to their perceived success at the end of the day (i.e. how many "hero shots" they left with on their cell phone). Remember a guide works harder on days when the fishing is toughest—trying every weapon in the arsenal to put their client on fish. The hardest days are the days when booking a guide pays the greatest dividends. Just ask your buddies who fished without a guide that day and got skunked!
All guides would love it if every trip they ran had ideal weather and water conditions, and dream clients who can cast a mile and never miss a fish, but that is rarely the case. Most days are going to fall some degree short of that, and it's the guide's knowledge and effort that will give you the advantage.
The truth is, a good guide provides a wealth of expertise and deserves to be compensated for his or her time. Realize too that guides rely on that extra 15-20% gratuity. Besides the flies and equipment costs they incur, they put in long hours, often drive long distances, and have gas, food, and other expenses. Now, if you feel like the guide was subpar or just put his or her time in on the water, then your tip should also reflect that.
So, to get the most from your next guided trip remember to
Do your homework, curb your expectations, actively learn and listen to your guide and you'll get more out of the experience. Tip generously and secure a prime date on your guide's calendar for next year!
Crystal Ranch Guides have spent decades fly fishing and guiding on our local waters. Each of our guides is highly skilled and will get you into fish on the Crystal Ranch or one our many nearby waters. We take great pride in providing the best client experience possible through superior customer service.