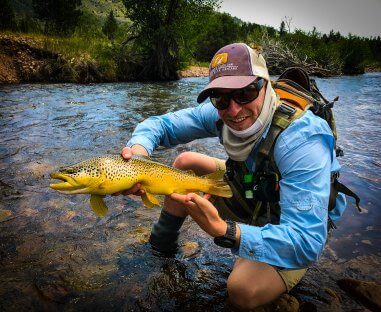 T he Crystal Ranch is one of the last places in the world, certainly in North America, where you can fish all day on miles of wild trout stream and never see another angler. The Ranch contains nearly two miles of Utah's Yellowstone River, a crystal clear trout stream that's home to wild brook trout, rainbows, brown trout, and native Colorado River cutthroat trout. We also have a private mile of Arrowhead Creek which was designed specifically for fly fishing. This is fly fishing paradise. The trout are usually very agreeable and you can land a real trophy. You will even have a very good chance to catch a trout Grand Slam (all four trout species) from the same stream.
Skilled Fly Fishing Guides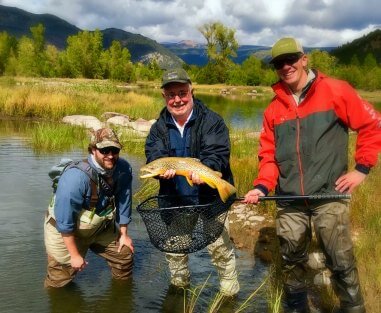 The friendly fly fishing guides at the Crystal Ranch have spent decades fly fishing and guiding on the waters of the Yellowstone River and other Utah mountain streams. Your guide can show you where and how to catch the trout at the Crystal Ranch and they will make sure that you have an enjoyable time doing so. You'll never have to worry about how your day might go because our fly fishing guides make sure that you are in control of your day. Our guides are full of suggestions, local stream knowledge, and have the skills to coach you into fish, but most of all, the Crystal Ranch guides are just great people. We enjoy helping you catch fish and enjoy your day on stream more than anything else READ MORE about crystal ranch guides
Exclusive and Unique Fly Fishing Opportunities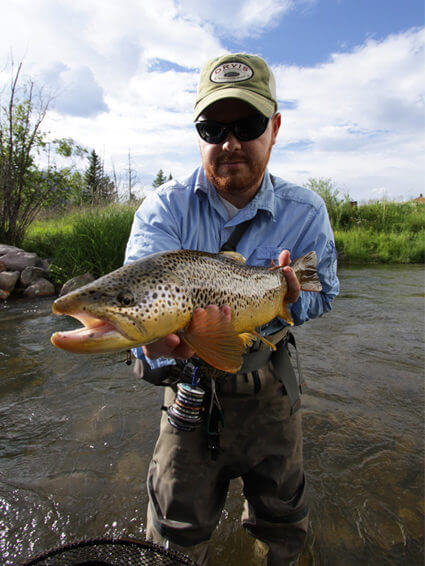 I n addition to three miles of private, world-class rivers, the Crystal Ranch offers several hundred yards of restored spring creeks, stillwaters, including Jackson Lake, and there are at least five other fantastic trout fisheries within 30 minutes to an hour from the Lodge. This nearly untouched corner of Northeastern Utah, lies in the shadow of Utah's highest mountains, the Uintas. The streams and lakes in this remote area of the Rocky Mountains hold numerous large brown trout, wild cutthroats, hefty rainbows, and the ever beautiful brook trout. This is what the rest of the West looked like 100 years ago. Step back into fly fishing the way it used to be and enjoy the fly fishing vacation of your dreams at Utah's Crystal Ranch.