Crystal Ranch Now Has Two Private Fly Fishing Rivers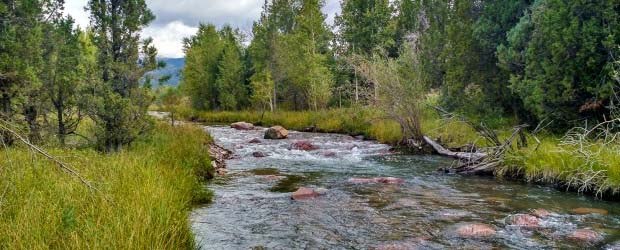 How to Build Your Own Fly Fishing River
After nearly 3 years of work, we have finally completed our most exciting project ever – Arrowhead Creek; or as we like to call it, "The Magic Mile." Starting this season, our guests can enjoy this new private river which was constructed specifically for epic fly fishing. Every inch of the new riverbed was designed with both trout and angler in mind. Arrowhead Creek provides ideal habitat for the four species of wild trout that have moved into it since construction finished last summer.
So you might be wondering how we just made a river?
Here's an overview of what you'll most likely need based on our experience:
about a million dollars worth of heavy machinery and excavation equipment
thousands of man and machine hours
a team of biologists from the Division of Wildlife Resources
an understanding of trout habitat, spawning patterns, and entomology
good old fashioned determination
patience- lots and lots of patience
In the spirit of full disclosure, we didn't actually make a river from scratch. We simply rerouted an existing natural tributary which used to flow through Crystal Ranch for about 20 feet before dumping into the Yellowstone River.  By digging a riverbed complete with riffles, pools, bends, huge logs and fallen trees, undercut banks, and plenty of massive boulders, the 20-foot tributary is now an incredible magic mile of perfect trout habitat which runs parallel to the Yellowstone River before joining it once again. Here's a short clip from day one of construction (July 01, 2014) showing the scope of the project.

Here's one more clip which gives you an idea of how carefully we designed each hole.
Get In On The Action This Season
The Magic Mile will be open to fish for the first time ever this season so book your trip now to be one of the first to fish this virgin water.  We spotted some bruisers darting in and out of the shadows last fall and can't wait to see how many fish are in there this year. In the meantime, check out the gallery below to see the river through its different phases of construction. It's not as entertaining as looking at massive trout, but it's pretty neat to see raw land turn into a bonafide mountain river.